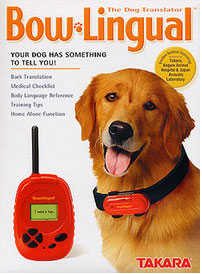 Bowlingual, a small handheld device for interpreting the barks of your "real" dog was announced by a Takara press release on 10 June 2002. The Japan Acoustic Laboratory's "Animal Emotion Analysis System" formed the basis for the invention. A database of voiceprints was developed for comparisons. Takara handled the planning and marketing. Dreams Come True, a Takara Group company, handled the product development.
A dog's bark is picked up from a small microphone on his collar and echoed to the main device (using a process called Sound Forwarding), the sound is analyzed, and the voice translation is displayed on the screen.
Dr. Norio Kogure, director of Kogure Animal Hospital, provided expert advice on animal behavior. Sounds are divided into six categories: happy, sad, frustrated, angry, assertion, and desire. You can even record your dogs emotions while you are gone.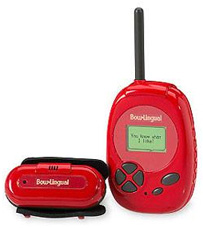 Bowlingual has a datanalysis feature that compiles information on your dog over time to improve communication, and form a "doggie diary."
It allows you to enter the dog's name, breed, gender and birth date to improve the translation. In addition it provides training tips, offers health advice, and includes a timer.
Bowlingual was later sold in an English version in the U.S. for about $120.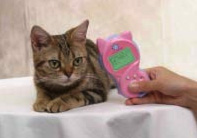 With Bowlingual being a big hit, Takara followed up with a similar product for cats. Meowlingual was announced in a 1 December 2003 press release.
Bowlingual was a tremendous success in Japan and received and almost unbelievable amount of publicity in the United States. Millions of people own dogs and were fascinated with the concept of a device interpreting their barks. Hundreds of publications ran brief articles about the device when it was first released.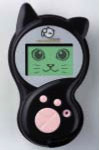 We are still working on our efforts to write a history of virtual pets. As part of that effort we are trying to understand how all the different types fit in with one another, with real life and with other things that may have influenced them. Bowlingual and Meowlingual play an interesting role, as they are two of the few objects to go back the other way. They use small handheld electronic devices very reminiscent of keychain virtual pets to interact with real life, vs. real life interacting with a virtual pet.