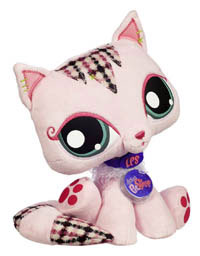 Hasbro announced it will be entering the "Digital Plush Arena" with Virtual Interactive Pets (VIP)Â  in a 24 Sept 2007 press release. Their already successful "Littlest Pet Shop" line will be launching five pets bound for the virtual world: a dog, cat, turtle, penguin, and a panda. The "VIP" will be launched in mid October 2007 in the New York Metro and online markets, followed by a global launch in 2008. The global launch will include a total of 18 VIP.
The pets are anticipated to list for $14.99 and are targeting young girls. Just like Webkinz, purchase of a pet will allow you to enter an online community of pet owners. You can customize a virtual home for your pet, purchase apparel for them and buy pet accessories. The virtual world uses a currency called Kibble.  You earn Kibble by keeping your virtual pet healthy and happy. (I wonder if Kibbles 'n Bits pet food bought into this ?)
One nice feature is an adoption desk. You can sign up at littlestpetshop.com, borrow a pet for a limited time and check out the virtual world before actually purchasing a pet to gain continuous access to the world.
VIP owners can play 16 mini-games or get involved in ten different activities in the virtual world. Games include hang gliding, snowboarding, and skate boarding.
Hasbro's new VIP games, MyePets.com from MGA, Webkinz, and others chasing Webkinz use an unusual approach. They provide you with a free online virtual community experience, but make you buy a plush pet as a token to enter. Its like you go to the store to buy the plush pet, get the secret codes to sign up online off of it, then just throw it in the corner and forget about it. Seems like a waste. But, they can't get zillions of people to pay for access to the virtual community, so they use this as a monetizing method. Hard to knock it when they are being this successful.
Nonetheless, seems like if someone took a similar approach BUT also created and promoted some more ways to interact and have fun with the "real" plush pet, they could separate themselves from the pack.
No mention in the Littlest Pet Shop press release if their online pet vanishes in a year like  Webkinz does unless you buy another one.