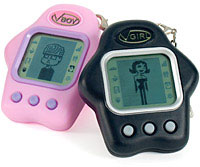 You can date 8 different partners of the opposite sex, each with their own personality ranging from mild to wild.
You keep your partner happy by buying them gifts, giving them compliments, taking them out on dates, and doing things with them.
If you want to dump them, give them bad presents and insult them.
It takes two LR44 batteries just like Tamagotchi did.
This game is NOT suitable for children.
Photo from Firebox.com