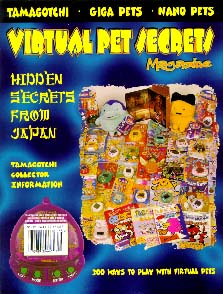 I just recalled, this Thanksgiving will be the 10th Anniversary of the release of Virtual Pet Secrets magazine back in 1997. I edited it for H&S Media. The first (and only) issue covered keychain virtual pets in depth with articles on collecting, displaying some of the larger collections, trends and developments, FAQ and tips, the evolution of virtual pets 1970-1996, and a couple hundred glossy images. The magazine sold very strongly from news stands and magazine racks across the country between Thanksgiving and Christmas.
We still have some and may use them as prizes in surveys and contests here when we get the blog a little more established.
More info on the magazine is available on a page titled, Virtual Pet Secrets Magazine, over on the Virtual Pet Home Page.
Looking back through it, one thing I am going to do, is write a History of Virtual Pets following up and expanding on the nice history published in Virtual Pet Secrets written by Robert Worne. I have since collected several earlier items and documents, as well as hundreds on the development of virtual pets over the last decade.