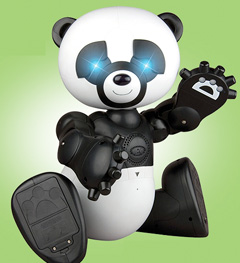 RoboPanda takes the traditional teddy bear look and turns it into a robot. It is intentionally designed to look robotic.
Capacitive touch sensor technology combined with a sonic sensor allow his eight motors to operate without use of a remote.
With RoboPanda's realistic actions, an interactive personality, advanced artificial intelligence and awareness, Wowwee has made a pleasant advancement from some of the more basic virtual pets. RoboPanda also interacts with a small panda that is included in the set.
He can tell you stories, play games and learn tricks. Plus the content is cartridge based (we suspect more content will be available later).
RoboPanda is currently for sale from Amazon.